Corporate chair massage makes a great corporate holiday gift or special treat throughout the year.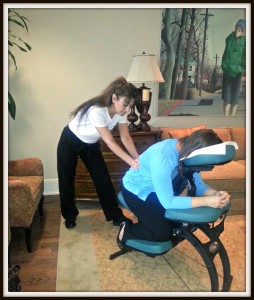 Turn 2 Massage and our Atlanta mobile massage service providers are leaders in
Onsite corporate chair massage
Bringing the best seated chair massage into your workplace.
Turn 2 Massage offers corporate chair massage therapy services at the office. A time for you and your employees to relax and recharge. Our highly skilled corporate chair massage therapists will provide a memorable experience that your employees will be very grateful for.
Stressed with project deadlines…
Working long hours…
Dealing with difficult clients…
Wanting to show your employees appreciation…
Thinking of including office chair massage in your corporate wellness program…
We've got it covered!
Your sessions can range between 5 and 30 minutes depending on your time and/or budget constraints.
If you would like to include office chair massage services in your workplace, please contact us regarding your one time request, weekly, monthly, or quarterly chair massage. We can discuss specifics and help determine what works best for your office. 
See Corporate Massage rates & services.
Read more about benefits of chair massage: 
Chair Massage for Corporate Wellness & Benefits of Corporate Chair Massage in the office
Customer Satisfaction is our priority.  Here is a customer review:
"We are so happy with the service we received from Turn 2 Massage!

The telephone interaction with Michelle DiGaetano was responsive and prompt, very professional. Our request was last minute due to a glitch in services from another provider, but Michelle wanted to help and worked with me to get someone literally overnight. I was very impressed.

I continued to remain impressed when our therapist arrived. She was knowledgeable, kind and worked really hard to customize each massage for the individual – giving tips and encouragement. Having empathy for the pains some people have.

Everyone raved! And felt pampered. We all felt more relaxed and ready to work after she left.

We are already planning to invite Turn 2 Massage to return!

I highly recommend their services! Terrific experience."

Karen Boddie
Administrator
Foltz, Martin, Knapp, LLC
Atlanta, GA
In addition to massage in the office, we also provide corporate events massage and
in flight massage for corporate private jets in Atlanta.