Recognize your employees for the hard work they do.  Reward them with chair massage!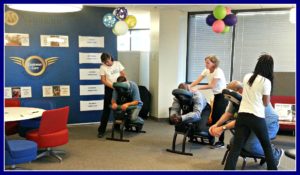 Celebrating employee appreciation day, holding a company health fair, or just looking to do something special for your staff?   We can help.  
Our massage therapists provide therapeutic, stress relieving chair massages that will leave your employees feeling amazing!   It's a kind gesture on your part that can make a significant difference in morale. They'll feel like what they do for your company really does get noticed.
Chair massage for employee appreciation or as a regular company benefit
Due to the numerous health benefits, many companies now include regular chair massage at work.  The results have shown that employees are happier, less stressed, and more productive.  They also work better together and take fewer sick days because stress levels remain more stable. The list of positive results go on and on. 
You can schedule weekly, monthly or quarterly massages.  It's affordable and well worth the money.   Both the employer and the employee benefit from our services. 
Book your chair massage today!
Chair massage for employee appreciation or as a regular benefit to your corporate wellness program.  Turn 2 Massage offers onsite corporate massage services in Atlanta.