Turn 2 Massage for Mobile Massage in Atlanta
We are an Atlanta based mobile massage service. Locally owned and operated, we strive to provide Atlanta's best chair massage and mobile massage therapy services.  We come to offices, events, homes and hotels.   We provide indoor and outdoor services for any type of event or occasion. This includes sporting events, festivals, trade shows & conventions, filming locations and more.
We understand you have a lot of options to choose from. That's why it is so important to us that we provide the best services possible. We want you to be 100% satisfied and work very hard to achieve that. 
You can choose from a variety of  treatments including: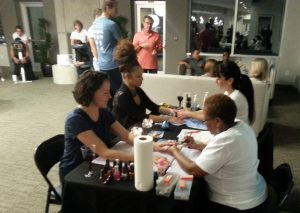 Chair Massage
Table Massage
Hand or foot massage
Scrubs
Facial Massage
Manicures / Pedicures 
Our team of state licensed massage therapists are some of the most experienced professionals in the area.   
We hope you've looked at all the rest and decide it's time to Turn 2 Massage!