Chair Massage can help with a variety of aches and pains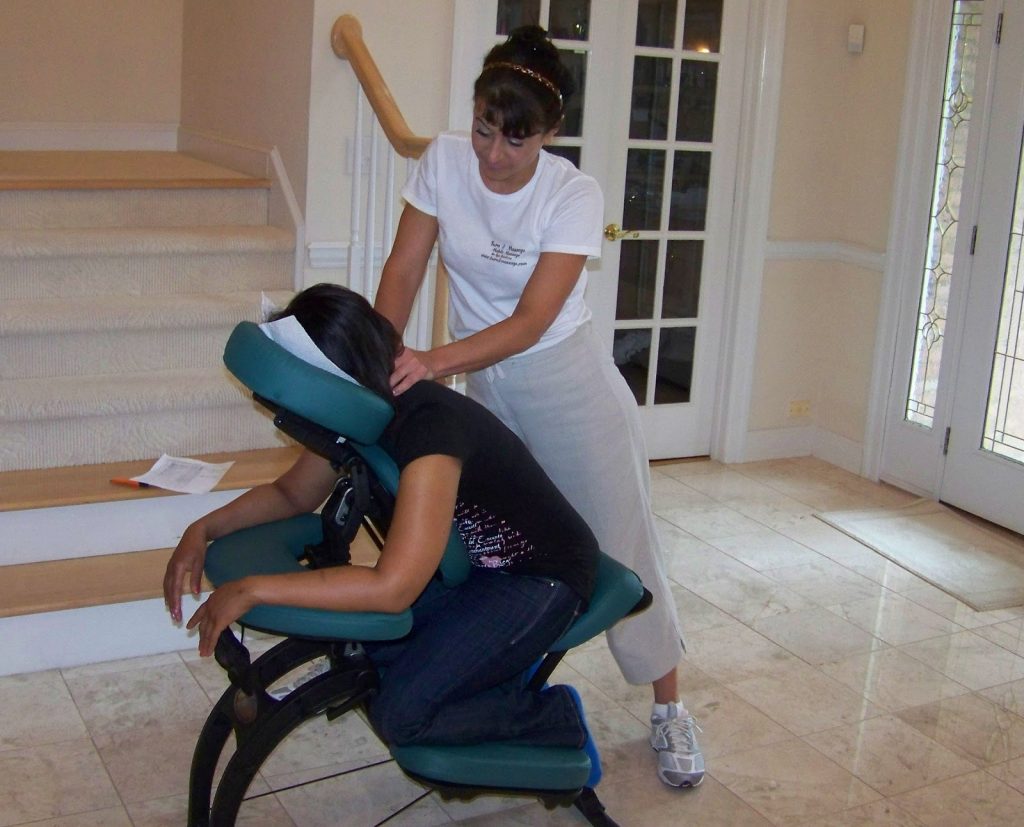 Chair Massage for Neck and Shoulder Pain
Many people suffer from neck and shoulder pain. This is one of the biggest complaints heard by massage therapists.
If you're under a lot of stress, pain and tension is commonly felt in the neck, upper shoulders and between the shoulder blades.  Sometimes without even realizing it, we tend to hold our shoulders up toward our ears.  This causes the muscles to tighten and create pain. Chair massage therapy is extremely helpful in addressing these issues.
But sometimes stress is not always the cause of this pain. In addition to stress and body posture a repetitive position could also cause those muscles to tighten.
If your job requires a lot of driving, sitting in that position with your arms forward holding onto the wheel has the same effect. Another position that can cause this pain is sitting at a computer for long periods of time. Again your arms being in that forward position. Stretching the pectoral muscles (upper chest) can be helpful.  (Try interlacing your fingers behind your back while lifting your arms up.  This can help stretch and lengthen those muscles).
Why is Chair Massage so beneficial?
With the design and comfort of a massage chair, the massage therapist is easily able to treat the neck, shoulders and back. You can actually feel your shoulders relax and resume their normal body position after receiving a chair massage.   Many clients have said "I could feel my muscles getting softer" and "it's like a weight was lifted off my shoulders".
For many reasons table massage may not always be an option. Whether it be time constraints or if you are just not comfortable lying on a table to receive massage. That's why chair massage has become so popular. It's an effective therapy that is convenient, easily affordable, and can be done while remaining fully clothed.
We offer chair massage onsite for corporate wellness or events. If you would like to find out more about our services contact us.
Turn 2 Massage in Atlanta has experienced massage professionals that are trained in a variety of chair massage techniques.
Click here for more on Chair Massage.