Searching for a special way to show appreciation to your hardworking employees…
Turn 2 Massage provides chair massage for employee appreciation.  Whether it's for Employee Appreciation Day or a time during the year when your employees have gone the extra mile, chair massage at the office is a treat.  The gift of relaxation is always a winner with staff.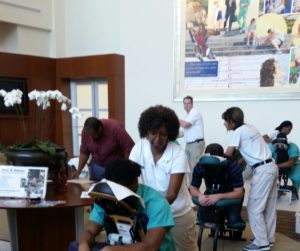 Your dedicated employees work hard everyday to make your business a success. It's their goal to deliver the best result in an efficient and professional manner. No matter what profession or industry, employees strive to do the best job they can. When employees give 100%, the company profits most. They should be recognized for their dedication.
Employees sometimes deserve more than praise and they want to feel appreciated by their employers. Chair massage can do that.  It will relieve stress, increase morale and boost energy levels. They will have a renewed appreciation for you and want to continue giving their best in return.
Show your employees appreciation by the thoughtful gesture of chair massage at the office. It shows you notice their dedication and commitment to doing a great job!
Turn 2 Massage has worked with many corporations and businesses who have seen the amazing results. Employee Appreciation Week or staff appreciation just because they deserve it!  Try chair massage at your office. Our professional chair massage therapists can provide your employees the relaxation and stress relief they deserve.
For pricing on Chair Massage for Employee Appreciation Day or during Employee Appreciation Week, click here.
Corporate Chair Massage
Event Massage Services
Massage on set for Film & TV