Chair Massage for Employee Wellness Events & Corporate Wellness Programs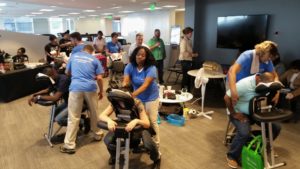 All throughout the year corporations offer health fairs and other wellness events for their employees.   
These events normally include a variety of health and wellness vendors coming together to promote good health.   Health insurance representatives are on hand to answer questions regarding insurance benefits, personal trainers encouraging regular exercise, and Yoga instructors giving demonstrations and informing employees of the great benefits of regular yoga. 
Include fun activities to help encourage employee attendance  
Chair massage is always one of the biggest attractions.  Also having chefs onsite giving out samples of great tasting healthy food options, and fruit smoothies for dessert.   
Turn 2 Massage is available for corporate health fairs and wellness events throughout Atlanta.   We also offer weekly, bi-weekly or monthly chair massage options for companies looking to add regular chair massage to their employee wellness program.  This helps keep stress levels down and leads to fewer sick days.   
Contact us for more information regarding your health fair, wellness event, or to include chair massage in your corporate wellness program.