Chair Massage for Employee Wellness Events & Corporate Wellness Programs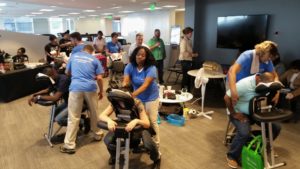 Throughout the year corporations offer health fairs and other wellness events for their employees.  These events include a variety of health and wellness vendors coming together to help promote good health.   
Health insurance representatives are on hand to answer questions regarding insurance benefits.
Personal trainers offer advice on the benefits of regular exercise
Yoga instructors teach classes and provide information regarding benefits of a regular yoga practice
And massage therapists provide massage while offering ways to reduce stress. 
Including activities like chair massage helps to encourage employees to attend 
Chair massage is always one of the biggest attractions.    Offering this service at your health fair is sure to boost attendance.  
Turn 2 Massage is available for corporate health fairs and wellness events throughout Atlanta.   We also offer weekly, bi-weekly or monthly chair massage options for companies looking to add regular chair massage to their employee wellness program.  
Contact us for more information regarding your health fair, wellness event, or to include chair massage in your corporate wellness program.