Chair Massage at Events
Our event services are a welcome sight at any event.   We provide a healthy, relaxing, fun service that is appreciated by everyone no matter where we go.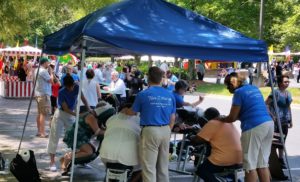 You'll find our chair massage services at trade shows and conventions, sporting events, at the office, corporate parties, on film sets and many other places.     We've brought smiling faces and helped celebrate at baby showers, bachelorette parties, graduation parties and other memorable events.
We know chair massage is exciting and fun and feels great, but it also provides so many great health benefits too!   We think chair massage is ideal anywhere, anytime.    
We've also been to sporting events and fundraisers.   Sponsors reward registrants with a chair massage for their participation.    It really is one service that can fit in anywhere.   
Give chair massage a try at your next event.  We don't think you'll be disappointed.