Georgia Chair Massage onsite at Offices, Events, Parties and more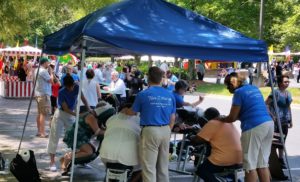 Chair massage has become a recognized health and wellness alternative for stress relief and relaxation.  We provide chair massage for corporate events including employee appreciation day, health fairs, conferences, company parties, and other corporate related functions.  It's a great way to say thank you to your hardworking staff.
We provide chair massage at trade shows and conventions.  It's an ideal marketing strategy to help you attract that much desired foot traffic to your trade show booth.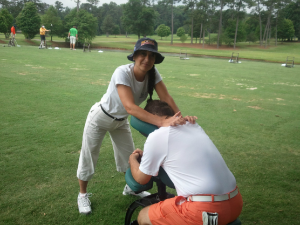 Sporting events is another occasion where chair massage is a welcome sight.    It will help athletes and participants warm up prior to the festivities or relax after.
Our chair massage services are popular for creating spa parties at home, at bachelorette parties, birthday parties and other fun gatherings. 
Turn 2 Massage provides chair massage onsite for events.  We have countless satisfied customers that have used our services for marketing purposes, showing appreciation to their employees, adding fun to their corporate retreat or company holiday party, and for pampering family and friends.
Chair massage relieves stress, helps with chronic pain and promotes a feeling of well being.
We hope you'll give us a try!  We look forward to the opportunity of providing your office or event massage services.
Call us at 404-917-9001 or contact us by email