Teachers deserve recognition!
Teacher Appreciation Week is May 1st through May 5th, 2017 
Turn 2 Massage recognizes the importance of the teachers who educate us all.  They deserve to be acknowledged all year long but most especially they should be recognized during teacher appreciation week.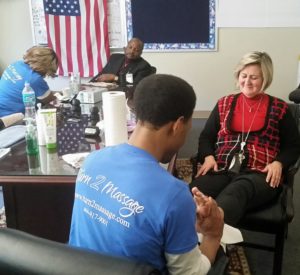 Teachers are committed to educating students and providing the knowledge  they'll need throughout their lives.  They encourage and support students when they may not have the confidence to try something new or challenging.  They give extra time to students who might be struggling to learn a new subject and some teacher's use their own finances to purchase supplies that will help make learning easier.  They spend their nights grading papers and planning the next day's lesson.  Teachers focus so much of their time and attention to helping students learn and grow.
Massage makes a great gift for Teachers!
Recognize the extra effort and dedication your teachers give to better the lives of their students. Treat your teachers to a 10 or 15 minute chair massage, hand massage or foot massage. Massage gives teachers an opportunity to relax, clear their mind, reduce their stress and get the extra attention they are always giving to others!
Let Turn 2 Massage and our team of massage therapists give your teachers the relaxation and stress relief they deserve.
Contact us today for your Teacher Appreciation Day Chair Massages
See our Photo Gallery for more teacher appreciation event pictures.
Make Turn 2 Massage your choice for mobile massage therapy, chair massage, event massage and mobile spa party services in Atlanta.