Chair Massage can help you stand out and get the foot traffic your looking for

The trade show season will be here before you know it.  The way companies benefit most is by having a great strategy that gets them noticed among all their competitors.    So much time, effort, and planning goes into having an exhibit and display that will outdo all the others.  Figuring out how to gain the attention of attendees is key to your success.  
We know we can help you draw a crowd.  Turn 2 Massage offers onsite chair massage services at trade shows and conventions in Atlanta, GA.
How do we help get you noticed?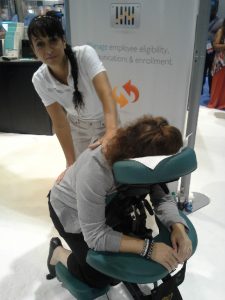 Attendees seek out our services and have actually told us they walk around specifically looking for a booth offering chair massage.    It has become so popular at these events because it's exactly what they need after traveling, walking around large exhibit halls, and usually sleeping in uncomfortable hotel beds.  This is where you benefit.  You get the crowd and won't have to chase people down.  
If you've had chair massage at you booth before, you know it works.  If you haven't yet tried this strategy, we think you'll be pleased with the results.  
Read more about our trade show and convention massage services here