Office Chair Massage for Employee Wellness  
Turn 2 Massage is Atlanta's largest provider of onsite chair massage in the workplace and at corporate events.  Our services offer an opportunity for corporations to relax and recharge their hardworking employees.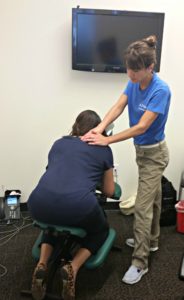 Corporate chair massage gets great results
Our expert therapists will provide your employees an amazing chair massage experience. Business owners like yourself will see immediate results. Your staff will be less stressed and more positive. It gives your employees an incentive to perform better and be more efficient.
Companies that provide regular chair massage have seen a decrease in sick days and turnover.   Corporate wellness is a big factor when it comes to keeping employees happy.   Just watch the transformation.  You won't be disappointed!
We also offer Chair Massage for Corporate Events in Atlanta
Chair massage at trade shows, conventions, meetings and other corporate related functions add value and the cost of our onsite services is more than affordable. We accommodate small businesses and large corporations.
Schedule your chair massage one of two ways. If your holding a wellness day event, convention, conference, or are attending a trade show, you may choose to have 2, 3, 4 or more therapists available for a specific days and shifts.
Or you may choose to specify the number of people in your group and how long you'd like each chair massage to be,  and we can figure out the rest.
Just let us know what's on your agenda and we'll help determine your best option.
Request your chair massage quote today!