Chair Massage for Conventions, Conferences & Trade Shows in Tampa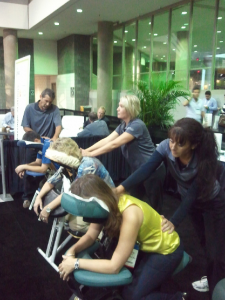 On-site Massage at Conventions and Conferences in Tampa
Chair massage at your convention or conference is a great way to keep attendees engaged and energized throughout the day.
While conventions and conferences are essential for your industry to grow and move in a positive direction, sitting for hours, listening to speakers and brainstorming ideas all day can be tiring.  You don't want your guests losing interest because they aren't able to stay focused.
Offering your attendees chair massage gives them an opportunity to unwind and recharge.  Our  massage therapists can help reduce mental fatigue and increase energy, allowing for better focus and creativity.   A short chair massage can provide total rejuvenation!   It will be money well spent.
Trade Show Massage Tampa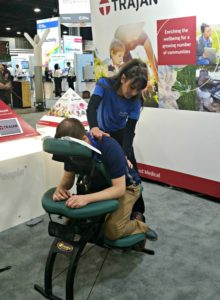 We also provide chair massage for sponsors and exhibitors at trade shows.
Exhibitors 
Offering chair massage at your exhibitor booth is a great way to draw attention to your business.  Our professional massage therapists are experts in trade show massage services.
Attendees walk around large exhibit halls all day and that can be exhausting. Chair massage is so popular at trade shows, attendees search for booths offering this service.   Not only will they be grateful for the opportunity to relax, they will be open and willing to hear all about your business.
Sponsors 
Offer attendees a place to relax and recharge.  Create a relaxation lounge where guests have the opportunity to unwind with a rejuvenating chair massage.  Your brand will get more exposure and attendees are not likely to forget your name.
Plan in advance!
Offer chair massage at your convention, conference or trade show.  Contact us today!