Corporate Massage Services Tampa, FL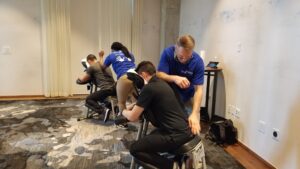 Turn 2 Massage specializes in corporate chair massage and on-site massage for events. Since 2010, Turn 2 Massage has been a leading provider of corporate massage services. Our professional massage therapists  have helped hundreds of companies reduce employee stress and create a more positive and productive work environment.    In addition, our chair massage services have been a highlight at many corporate events. 
Our traveling massage therapists are available for employee appreciation day, health fairs, corporate meetings, and other company related functions.  
Chair Massage at the Office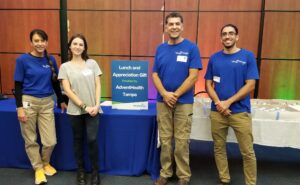 Chair massage has shown it can improve employee performance and productivity and can play an important role in reducing employee stress.   Including chair massage in your corporate wellness program can have a significant impact on employee morale and help create a happier and healthier workforce. Chair massage at work can be a great incentive for your employees.    
Chair Massage at Events
Massage at events never goes unnoticed.   Whether at a trade show, conference or convention, corporate retreat, health fair or other special event, attendees always take advantage of chair massage.    Your guests will leave feeling rejuvenated and recharged.  It's a crowd pleaser no matter what the occasion.  
Chair massage can transform your work environment into a more positive and productive one.  It can help make your next trade show your best yet or add enjoyment at your corporate outing.   Chair massage helps reduce stress for everyone in a very uncertain time. 
Contact Turn 2 Massage today for your personalized quote
Read more about our Tampa trade show and convention massage services here