Turn 2 Massage is Atlanta's mobile massage event services provider
Event Massage services are also available in Tampa, Orlando and Chattanooga
Turn 2 Massage provides trade show massage services in Atlanta, Tampa, Orlando and Chattanooga.  Let us provide you our exceptional chair massage services.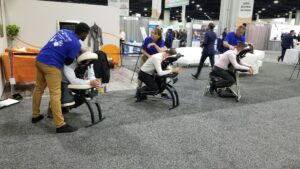 Offering on-site seated chair massage at your trade show, convention, or event is always well received and will separate you from the competition. It's a great marketing tool and can help draw that much sought after crowd of attendees you want stopping at YOUR booth.
Whatever you have going on, we have you covered!
trade shows
expos
exhibits
conventions
conferences and more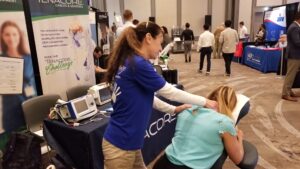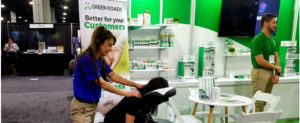 By adding show massage to help market your company's products and services, you will be the busiest booth around!
Seated chair massage at trade shows is always on peoples radar.   Attendees are tired from walking the large halls and really appreciate the treat. You will have people lined up for their free chair massage. This gives you the opportunity to discuss your business one on one. They will be more open to learning about your products and services because you've provided them with a much needed break.
Show massage:  Why choose chair massage for your trade show booth?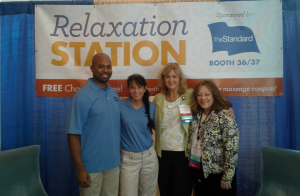 Read an article on benefits of massage at trade shows
Other options include:
If your business is promoting a hand or foot product, you may want to choose our hand massage or foot massage treatments.  Another benefit of our onsite massage is that our massage therapists can use your product and discuss any highlights about it you would like them to promote.
I encourage you to read the testimonials page and see comments from previous clients who have used our show massage services at their trade shows and conventions.
Turn 2 Massage provides experienced state licensed massage therapists well trained in show massage services and chair massage techniques that will relieve stress and add that extra advantage your looking for.
You choose the length of your chair massage sessions which can range from 5 to 30 minutes.  Due to the volume of people at trade shows, we suggest 5 -or 10 minute sessions.  But of course the choice is yours.
Turn 2 Massage and our talented team of massage therapists can help make your show a huge success!
Contact us today for a free quote!
Make Turn 2 Massage your choice for mobile massage therapy, chair massage, events, show massage, and mobile spa party services in Atlanta.