Corporate Chair Massage in Atlanta by Turn 2 Massage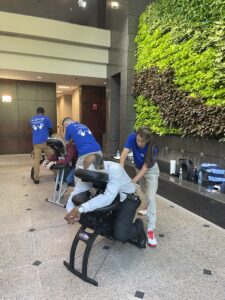 Turn 2 Massage specializes in office chair massage and corporate wellness services.  Our corporate chair massage is available to small businesses and large corporations throughout the Atlanta area.
Chair massage at the office is a great incentive for your employees.  You will notice a more upbeat atmosphere and an increase in productivity.
Massage for Employees
Chair massage at the office is a special way to show appreciation to your employees.  It can help lower stress levels and improve morale. Onsite chair massage services won't disrupt your work environment.  In fact, offering chair massage to your employees will improve moods, increase performance, and create a more positive atmosphere.
Our team of massage therapists will help make your office a more stress-free environment.  A short chair massage session can transform stressed and overworked employees into relaxed and rejuvenated employees!
Start your corporate wellness massage routine today
Whether you do weekly, monthly or bi-monthly sessions, it will have such a positive impact on your work atmosphere. Happy and energized employees result in more productive employees.

Onsite Chair Massage for Corporate Events
Onsite chair massages can be invaluable at trade shows, conventions and other corporate events. At trade shows we easily get the attention of attendees, and at conventions we keep everyone energized throughout the day.   At health fairs and wellness events our chair massages are a highlight of the day.
Try our corporate event massage and office massage services and see the amazing results!
Contact us today!  Request your Chair Massage Quote
Check out our Event Massage Services Page