Chair Massage Mobile Services
We also provide Chair Massage in Tampa & Orlando, Florida and Chattanooga, Tennessee
Atlanta's best on-site chair massage service provider also services Tampa, Orlando and Chattanooga.   Turn 2 Massage has a team of traveling massage therapists that will come to your business, event location, hotel or private home.
Our professional massage therapists love what they do and truly enjoy helping people feel better.  Our state licensed therapists are experienced in a variety of massage techniques and will provide an amazing massage experience.  We have the best chair massage therapists in Atlanta!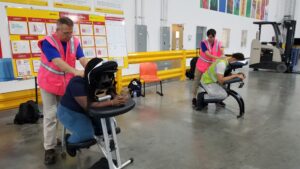 Chair massage at the office can help transform your workplace environment by lowering stress levels and improving employee morale.  You will notice your employees are happier and more productive.    Chair massage can be a great addition to your corporate wellness program, for an employee appreciation day event, or a gift to say thank you for a job well done.
Chair massage at health fairs, conventions, conferences, meetings or  other corporate functions is a great way to unwind and recharge.
Chair massage at sporting events, baby showers, bachelorette parties, and other celebrations is always a big hit.  It's also a great activity to get friends together for a spa party at home.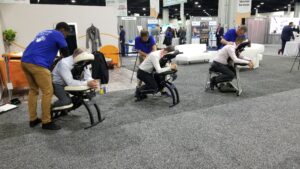 Chair massage at trade shows can be a great marketing tool.  Attendees get excited when they see free chair massage.  Before you know it a crowd will gather and you will be the most popular booth in the exhibit hall!
Cast and crew work extremely long days when filming a production.  They are deserving of a little relaxation.  Our chair massage on set helps rejuvenate and re-energize the entire crew.
Services that compliment our chair massage include:
Office Yoga or Chair Yoga, Foot Massage, Hand Massage, Corporate Stretch Class  Hand or Foot Scrubs and other treatments.   See our  rates and services for more information or request your customized quote
Chair Massage Benefits:
Each massage chair only requires about a 6'x6′ space.  It takes just a few minutes to set up and we bring all the necessary equipment. Our massage therapists have the flexibility to set up anywhere.
Chair massage is utilized in various corporate settings, at events, and for private in home celebrations. Our traveling massage therapists are trained professionals each skilled in a variety of techniques.
Chair massage can be a great perk at the office. Employees are happier and more productive.
It's a fun addition to private parties and  special events. Guests will feel pampered and grateful for the special treat.
It's a welcome sight at sporting events. It can help athletes warm up prior to competition and relax sore muscles after the event.
Chair massage by itself or combined with other spa treatments allows you to create a spa party at home.
Best of all it's affordable!
We think chair massage is so versatile because it works well in any setting.
Ideal for workplace wellness
Creates excitement at your party or appreciation event
Re-energizes guests at conferences and conventions
Attracts attention at trade shows
Experience all the benefits of chair massage for yourself. Depending on the setting your sessions can range from 10 to 30 minutes per person.