International Housekeepers Appreciation Week – Reward your Staff with a relaxing Chair Massage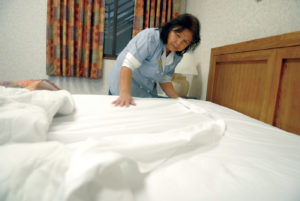 This week is a time to recognize your hardworking housekeepers and honor them with small gifts and kind gestures.  Why not give them the gift of relaxation?
Housekeepers get very little acknowledgement for the hard work they do.  Chair massage is a gift they will not forget.  Not only because they will feel cared for, but because the work they do is very physically demanding.
Chair massage – a special treat for your hardworking housekeepers
At hotels our housekeepers are always friendly and ready to attend to our needs. Whether traveling on a vacation or for business we rarely have time or want to keep our rooms neat and clean. We leave our beds unmade and our used towels scattered. We go about our day and when we return our beds are made perfectly, and we have a clean supply of towels and neatly placed toiletries.
Most housekeepers work long shifts and don't make a lot of money. They are not able to afford extra things like a massage.   In our experience, most of the housekeepers we have serviced have never had a massage.  It's truly an honor for us to pamper them.
Onsite chair massage for housekeepers appreciation week is an affordable gift that will show your staff you do appreciate and recognize their services. The reward of seeing their smiling faces and hearing them talk about their massage experience will make the cost seem really unimportant.  This year honor your housekeepers with chair massage for International Housekeeping Week.
Turn 2 Massage can treat your staff to relaxing, stress relieving chair massages. A gift that will relieve their aches and pains and leave them feeling brand new. Let our chair massage therapists provide your housekeepers with the special attention and caring touch they deserve!
Send us your request for a customized quote
Get an idea of our hourly rates on Chair Massage for Housekeepers Appreciation Week Here