Chair Massage Mobile Services in Orlando, FL
Turn 2 Massage provides on-site chair massage services for events and corporate massage services for employee appreciation, health fairs, conventions, trade shows, and other business related functions. 
Our team of traveling massage therapists are state licensed professionals with extensive training in the massage therapy field.     
Chair Massage for Events 
Our amazing team of massage therapists will come to your event with all the equipment needed to provide relaxing yet rejuvenating chair massages.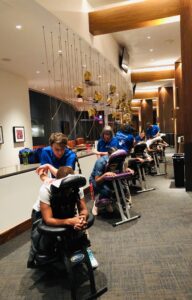 Some of the events we have been a part of include 30 to 100 mile bicycle races, half marathons, numerous trade shows, conventions and conferences, baby and bridal showers, corporate retreats, company parties, bachelorette parties and more.   
Attract trade show attendees to your exhibitor booth
Help athletes warm up and cool down during competition
Pamper your guests at your social get together
Recharge attendees at your conference or convention.
Add a special activity at your company party or retreat.
Whatever the event may be, chair massage is always a popular attraction.   
Chair Massage at Work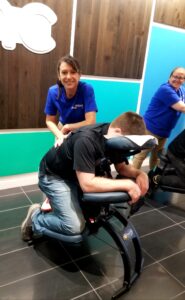 Companies have recognized the benefits of chair massage in the workplace.    From helping employees keep stress levels in check, to the increase in work productivity, a decrease in time off for sick days, as well as seeing a noticeable difference in employees attitudes.  All these benefits make for a happier, healthier work environment for everyone. 
Depending on your time and budget, chair massage sessions can be 10, 15, 20 or 30 minutes per person minus a couple minutes for the therapist(s) to sanitize and prepare for the next service.  
Event a short chair massage can have immediate results.    Employees are able to temporarily 'unplug' from electronics and often times forget they're at work during their massage.  
Schedule your corporate chair massages weekly, monthly, quarterly or annually.   You'll notice the results right away with all the smiling faces and thank you's you'll receive. 
Turn 2 Massage for all your on-site chair massage in Orlando. 
Contact us for a quote.   Booking as far in advance as possible is always helpful. 
Also check out our Orlando convention information here