Chair Massage Mobile Services in Chattanooga, TN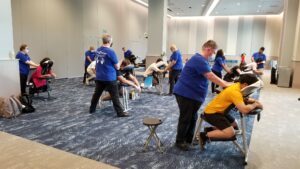 Turn 2 Massage provides corporate chair massage at offices and events in Chattanooga.   Professional massage therapists that travel to you.  
Chair Massage at the Office
Chair massage is recognized as a great alternative for stress relief in the workplace.  It can be a great addition to your corporate wellness program.    We offer chair massage for employee appreciation day, health fairs and other office events.    Employees will be happier and more productive which means your business with thrive. 
Chair Massage at Events
Chair massage can always add to the festivities.  At trade shows and conventions chair massage is used as a marketing tool that can help attract attendees to your exhibit booth.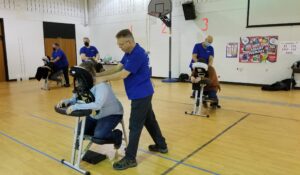 Chair massage for teacher appreciation day is a great way to pamper your hardworking teachers.   Chair massage at student appreciation events always draws a crowd and it can help students reduce stress during final exams.   
We also offer on-site massage for sporting events. It can help prevent injury and aid in muscle recovery. 
Our chair massage services are popular at bachelorette parties, baby showers, birthday parties and for other special occasions. 
Chair massage onsite for events in Chattanooga.  Our customers have used our chair massage mobile services to show appreciation to their employees, add fun to their corporate retreat or company party, help promote products and services, and for pampering family and friends.
Chair massage relieves stress, helps with chronic pain and promotes a feeling of well being.
Contact us for a quote