Chair Massage at Corporate Health Fairs & Wellness Events in Atlanta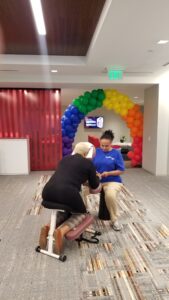 Create excitement and fun with chair massage at your corporate health fair or wellness event.  Not only will everyone feel great, they'll be rewarded with a number of health benefits including:
Lower stress levels
Improved mental clarity and focus
Improved work relationships
More energy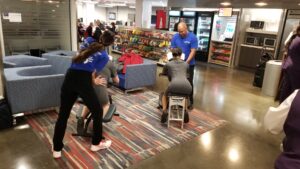 Turn 2 Massage service providers are trained professionals experienced in therapeutic massage.  We help reduce stress and can offer your employees tips to maintain a healthy mind and body.
Chair massage is the perfect addition to your corporate health fair.  It will make your event more enticing and employees will be more willing to participate.
Stress management is an important area to address

This is your opportunity to create awareness and promote healthy living.
Whether it be pressure to meet deadlines, feeling overworked, or not getting along well with co-workers, employee stress levels can run high.   Employees use countless sick days every year due to stress and stress related health conditions.
Including chair massage at your event will help your employees become more aware of the stress relief options available.
Health fairs give employees an opportunity to receive health related information as well as health screenings they may not have considered having done otherwise. Having trained medical staff available to provide cholesterol checks, glucose testing and blood pressure checks can alert employees to potential health risks.  They can also advise employees on lifestyle changes that may help prevent future health problems.
Click here for pricing information or contact us for your customized quote
Make Turn 2 Massage your choice for mobile massage therapy, chair massage, events, and mobile spa party services in Atlanta.