Turn 2 Massage offers on-site chair massage for trade shows and conventions in Atlanta, Tampa, Orlando and Chattanooga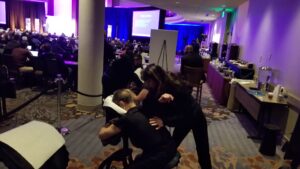 Chair massage at trade shows and conventions is in demand. Companies that purchase booth space use chair massage to attract the attention of attendees.
The marketing power of providing chair massage at trade shows and conventions has shown proven results
Businesses owners that have offered chair massage at their trade show or convention booth have been impressed by the increase in foot traffic. It has given them an opportunity to convey their business message to a much larger audience.   Chair massage attracts attention!  Many of the people may otherwise have passed them by.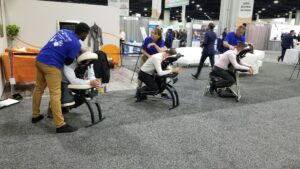 Atlanta is one of the nation's largest cities to accommodate trade shows and conventions throughout the year. The Georgia World Congress Center is a main attraction in Atlanta for trade shows, conventions and events.
Orlando, Tampa and Chattanooga also have large trade show and convention centers and accommodate numerous events each year.
Companies that are looking for a way to 'stand out' in the crowd  use chair massage to promote their business.
If your company is interested in chair massage services for your convention, trade show or other large event, contact us today.  You may also read more information about this service.  click here
Here are comments from a couple of our previous clients that used our trade show and convention massage services
Travis Couick, CAS, of Buckhaven Construction in Atlanta.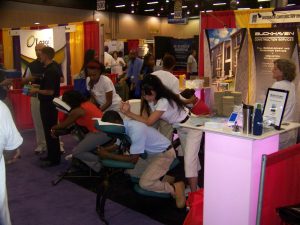 "Turn 2 Massage did an amazing job handling our trade show and the constant flow of people. Owner Michelle DiGaetano was able to head up a team of therapists that worked for a solid six hours and were able to help our company make a tremendous impact at an industry trade show that requires something special to stand out," Couick said. "I would not hesitate to recommend Turn 2 Massage for an event. They will do an excellent job and have a great attitude!"
Julie Rivers, Marketing Representative and Trade Show Coordinator for Benefit Focus, in Charleston, SC, said "Turn 2 Massage recently provided their services at our booth at the national SHRM Conference; our industry's largest trade show. We've never had more foot traffic than we did this year. Turn 2 Massage and their team of therapists were very professional and courteous to everyone, even after giving massages for six straight hours! It was a true pleasure to work with such professionals. I would recommend them for any upcoming event. Thank you for doing an amazing job Turn 2 Massage!"