Chair Massage for Trade Shows & Conventions in Orlando and Tampa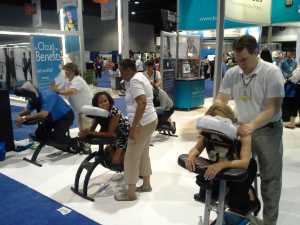 Turn 2 Massage provides on-site chair massage at trade shows and conventions in Orlando and Tampa, Florida. 
Trade Shows
Plan in advance and have a good marketing strategy  
At trade shows, offering 'free massage' to attendees helps exhibitors get noticed and increase traffic flow to their booth.   
Our professional massage therapists can help relieve the aches and pains incurred when attending a large convention or trade show.   The majority of attendees have traveled from out of state and are sleeping in uncomfortable hotel beds.  That can cause both neck and back pain which can make walking the large exhibit halls a real challenge.   Exhibit floors are loud, crowded and chaotic which can also cause headaches and mental fatigue.  When you give them an opportunity to find relief, they won't forget it!
Prior to receiving chair massage, attendees will be more open to learning about your product or service.  They will exchange their information which in turn gives you an opportunity to follow up after the show.  Because you are showing care and concern for their well being, you will make a lasting impression.  
Conventions
Offering chair massage at conventions will help the attendees stay motivated and energized.  Conventions normally last several days and consist of day long discussions regarding the industry and how to improve going forward.  Hours of discussion and brainstorming ideas can be draining.    Setting up chair massage stations to allow guests an opportunity to relax and refocus helps keep everyone positive and on track.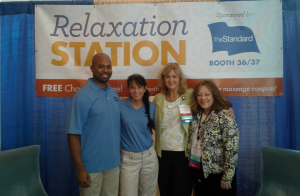 Sponsors also benefit from offering chair massage
Trade show and convention sponsors can get a lot of exposure setting up an area for attendees to relax and get a free massage. Create a relaxation station and provide a place of peace and serenity and a temporary escape from the chaos.  Your name will not be forgotten!
On-site massage services at your Orlando or Tampa trade show or convention.  In addition to our chair massage, we also offer additional services including foot massage or hand massage. 
Contact us for a customized quote
Chair Massage services for Exhibitors & Sponsors attending
Orange County Convention Center events click here