On-site Chair Massage & Mobile Massage in Atlanta, GA and On-site Chair Massage in Tampa, Orlando and Chattanooga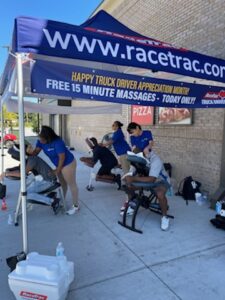 Turn 2 Massage offers a variety of mobile massage services for the workplace, at home, and for events in Atlanta, GA.
We also offer Corporate Chair Massage in Tampa, Orlando and Chattanooga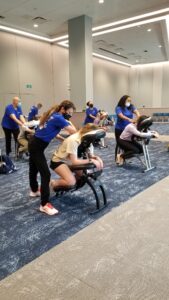 Our on-site corporate chair massage is a healthy perk you can easily incorporate into your employee wellness program.  Once a week or once a month it's an added incentive that will keep your employees motivated, happy, and productive.
Include chair massage at health fairs,  conferences & conventions or for employee appreciation day events.
Our corporate massage services are in demand and affordable.
Corporate Yoga:
We also have certified yoga instructors that provide yoga classes at the office.  We offer a 60 minute mat yoga class or a 30 minute chair yoga class. Our classes accommodate both the beginner and intermediate yogi.  The class will focus on stretching and breath work that will increase flexibility and clear the mind.  Read more about our corporate yoga.
Combining massage and yoga at work is sure to reduce your employees stress and tension and create a happy and healthy work environment.
Event Massage Services:
Our on-site event massage makes any celebration better!  Great for birthday parties, sporting events, bachelorette parties and other fun occasions.    We provide a variety of spa services including foot massage and hand scrubs.  We offer both table massage and chair massage at events.
Trade Show Massage: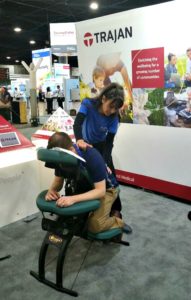 Chair massage at your industry trade show. Offering chair massage at your trade show booth will get you noticed.   People get excited about receiving 'free' chair massage.  You will be the most popular booth in the exhibit hall!
Whether at the Georgia World Congress Center or other trade show venue, using our chair massage services can help promote your product or service.
In Home Massage & In Room Massage at Hotels:
If you live in the metro Atlanta area or travel to Atlanta on business, we offer in home massage & in room hotel massage services. Our therapists are state licensed, educated professionals that will provide the same customized therapeutic massage services you receive at a chiropractic office or spa.
Spa Parties:
We also offer mobile spa party services for groups.    Choose a service or services and create your own spa experience at home or at your event.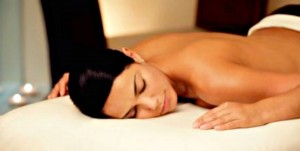 Massage on Location for Atlanta film and television productions:
Turn 2 Massage also offers Atlanta massage therapy services to the film and television industry. We provide massage on set and massage on location. It's a great way to reward the hard-working cast and crew.  Try our on set chair massage at your film location or studio.   We also provide table massage services on location, and private in home massage services for cast and crew.
If you're looking for the best massage therapy services in Atlanta, Georgia, look no further. Turn 2 Massage is the choice. Experience our team of experts that will provide you the highest quality mobile massage and chair massage services in Atlanta.
Contact us today for your customized quote!