Chair massage at your conference, meeting or corporate training will keep your guests engaged and energized!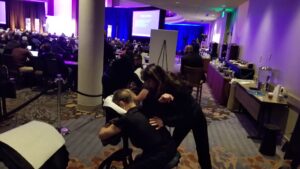 Chair massage will help keep your guests interested and their energy levels high.
Whether you've planned numerous events or this is your first time, you want your guests to enjoy their experience. You want them to leave feeling they've learned a lot, but at the same time aren't completely overwhelmed and exhausted.
Our massage therapists will provide amazing chair massages that will help relax and recharge your attendees throughout your event.
Why you want chair massage at your event….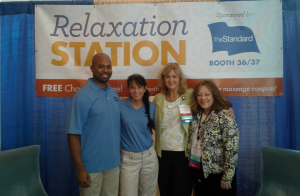 Your attendees will be sitting for hours taking in a lot of information.  This can be uncomfortable and mentally draining which can cause them to lose focus.   This is where we come in!
During breaks guests will be treated to relaxing chair massages that will relieve stress and tension, clear the mind and re-energize. It has become a common addition to conferences, seminars and corporate meetings.
Our experienced massage therapists are able to reduce stress and address common complaints voiced by attendees at these events. Either neck pain, a backache or brain overload is likely to affect almost everyone at some point.
Let Turn 2 Massage and our team of talented chair massage therapists be a highlight to your event. Your guests will be more attentive and very appreciative!
Contact us today for your free chair massage quote