Chair Massage is the gift for Administrative Professionals Day
Administrative Professionals Week    
April 21st through April 27th, 2019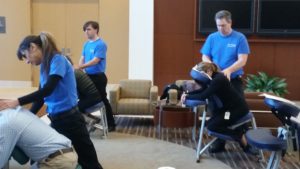 Administrative Professionals Week is a time to recognize support staff for their accomplishments and contributions to your company's success.  They deserve some special attention and this is the week to do that.
Administrative professionals usually get little recognition for all the work they do. They are responsible for many of the office operations and work behind the scenes to make your company a success.  Conducting business would not be possible without them. 
Administrative professionals deserve a break and a little rest and relaxation
Reward the people that keep your office running smoothly.  Create a relaxing spa experience for your hard working administrative staff.  There is nothing better than the gift of chair massage at work.  They will feel valued and appreciated.
Turn 2 Massage and our team of massage therapists provide in office chair massage for administrative professionals day celebrations. 
We think our chair massage is the perfect gift and we think you will too!
Contact us today for a quote!