Trade Show Massage Atlanta, Tampa, Orlando, Chattanooga
Trade Shows, Vendor Shows, Conferences and Convention Massage Services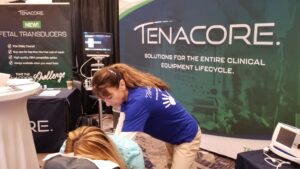 Seated Chair Massage at your trade show booth, convention, conference or expo is a marketing tool your competitors will wish they'd thought of…..
If your company is investing time and money at a trade show, convention, conference or other exhibitor show your goal is to meet potential customers and promote your products and services.  There are always hundreds of other companies competing for the same thing.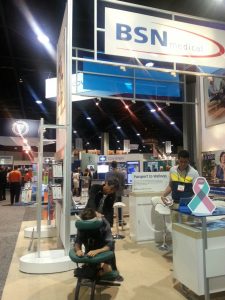 Chair massage at your trade show will set you apart
On-site chair massage is a promotional tool that will separate you from the competition and get you the attention your looking for.  Our professional massage therapists are experts in trade show event massage services.
Why choose chair massage for your trade show booth? 
Participants get excited when they see an opportunity for a free chair massage and will gather in line to get one. Others notice the crowd and that gets you more attention and more of an audience builds. This gives you plenty of time to promote your business and talk with attendees. You're easily able to convey your business and product information because they are open to hearing it knowing they get a relaxing chair massage right after.
Another trade show marketing idea….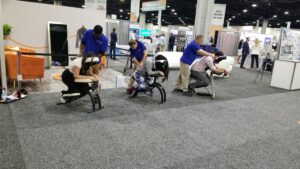 If your business is promoting a hand or foot product, you may choose to provide hand massage or foot massage in place of or in addition to chair massage.  Massage therapists can use your product during the service to help promote it. Another benefit of our trade show massage services is the flexibility our massage therapists have to perform the massage service that works best for you.
Chair massage is a great way to get foot traffic to your trade show booth or exhibit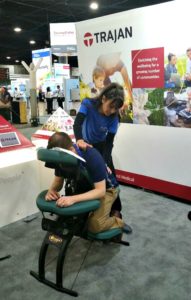 Even after the attendees leave they will be telling others where they got a free chair massage. People that may not have intended to get to your booth are now coming to find you. It's really that good! The small investment in chair massage more than pays for itself. It's money well spent!
Turn 2 Massage provides state licensed professional massage therapists well trained in trade show and convention massage.
Our therapists can help promote your product. If you have a couple things to get across, they could easily pass the information on.
You may also choose to have our team wear your company t-shirt. It looks professional and attendees more easily remember the company offering the free massage.
Our therapists use chair massage techniques that will relieve stress and add the 'extra touch' your looking for.
We think you'll be more than satisfied with the results!
Read testimonials from clients that have used our trade show and convention massage services.
Contact us today for your trade show or convention chair massage quote
Turn 2 Massage provides chair massage onsite at trade shows, conventions, expos and conferences in Atlanta, GA, Tampa, FL, Orlando, FL, Chattanooga, TN