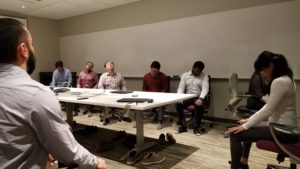 Chair Yoga at the Office

 
Turn 2 Massage offers a 30 minute chair yoga class led by a certified yoga instructor.  Our chair yoga class is a gentle form of yoga that is practiced sitting on a chair or standing using a chair for support.
Each 30 minute class can have up to 30 participants if your space allows.  Employees can remain in their normal work attire or bring comfortable clothing to change into.
Sitting at a desk for hours at a time places strain on the lumbar spine as well as the mid to upper back causing pain and discomfort in the neck, back, and shoulders.   Chair yoga is a great way to relax, stretch your body, and relieve stress and tension while at work.    Chair Yoga is an ideal practice at the office.
Please be advised that live streaming or video recording out yoga classes is prohibited. 
How Office Chair Yoga works 
The instructor will guide your employees through a 30 minute chair yoga practice that focuses on breathe work and stretching. The class gives employees an opportunity to set aside work related tasks, clear the mind, stretch the body, and focus on being present. The stretches performed can help relieve tension in the neck, back, and shoulders.  These are the areas of the body most affected by sitting at a desk or working on a computer all day.    In this session, employees will learn a variety of stretches they can perform day to day while seated at their desk.  It's a great way to re-charge.
What you need to provide for your Chair Yoga class experience
Folding chairs or chairs without armrests work best.  This will allow employees to perform the stretches more easily and get the best results.   The chairs should be set up with enough space between each person so they are able to comfortably stretch out their arms and legs.  A large room or big open space works great.    (As seen in the picture above,  we can hold the class in a conference room and use office chairs with armrests, but it will eliminate the opportunity to perform some of the stretches)
Office chair yoga is for everyone.   It's a great introduction for anyone who has never tried yoga before.  It also benefits intermediate and advanced yogis because they are familiar with the meditative practice.
Choose which time of day the class works best for your office needs.   You may want to give your employees a mid-morning break, hold a lunch and learn session, or have an afternoon class to help your employees wind down at the end of the day.
If you have additional questions or would like to schedule chair yoga at your office, contact us today.
To read more about our regular 60 minute yoga class on the mat click here