Chair Massage at your Corporate Health Fair or Employee Wellness Day Event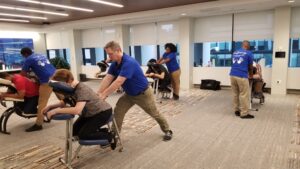 Health fairs and wellness events are a great way to create employee awareness. Corporate wellness events allow employees to receive health screenings, get advice from health care professionals, and learn important information on practices they can do to maintain a healthy mind and body.
Corporate wellness incentives are essential in order to keep your employees happy and healthy in the workplace. One way to accomplish this is to offer health fair events that provide stress reduction tips, health screenings, and activities employees will find interesting and more importantly enjoy.  Chair massage is the perfect addition to your employee wellness day event.  In addition to health screenings, stress management is an important area to address. Research has shown that countless sick days are used by employees every year due to stress related health conditions.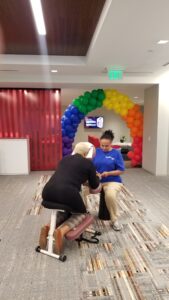 Chair massage is commonly requested at health fairs to help inform and encourage employees of stress relief alternatives that are available.
Employees will be eager to attend your health fair event when you include chair massage
Corporate health fairs provide employees important information on lifestyle changes that may help prevent future health problems. Cholesterol and blood pressure checks, diabetes and glucose testing and other health related screenings will alert employees of any potential health risks. All of these things are necessary and important.   Including a feel good activity like chair massage at your health fair, is sure to get employees more interested!
Chair massage in the workplace can help improve morale, lower anxiety, and encourage employees to include regular wellness practices in their everyday life 
Turn 2 Massage helps corporations and their employees reduce stress and improve mental clarity with our stress reducing health fair chair massages.  Bring our team of corporate massage therapists to your company's health fair event and watch your employees excitement soar!  Not only will it make your health fair more appealing to them, chair massage reduces stress, clears the mind, and can help manage or prevent work related injuries.
Turn 2 Massage and their talented team of professional massage therapists can help make your health fair or employee wellness day event an even bigger success.
Contact us by email or call 404-917-9001 today for your free health fair chair massage quote.