Corporate Massage Services in Atlanta, Tampa, Orlando & Chattanooga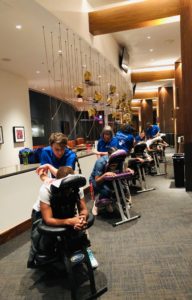 Turn 2 Massage has a team of traveling massage therapists that provide chair massage at offices & events in Atlanta, Tampa, Orlando and Chattanooga. Our special event services include employee appreciation day events, conventions, trade shows, health fairs, conferences, and other corporate related functions.
We accommodate small businesses, large corporations and any size event. Turn 2 Massage is your 5 star corporate chair massage service provider.
Our professional massage therapists have a passion for helping people feel better. They will lift spirits in the office, relax and recharge trade show attendees, and rejuvenate tired guests at conferences and conventions. Whatever your need may be, our corporate chair massage therapists will leave a lasting impression!
On site Corporate Chair Massage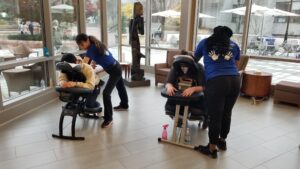 Massage therapists will arrive on site at your office or event with all the equipment and supplies needed to perform your chair massage services. This includes a professional massage chair that is quick and easy to set up,  sanitizing products to clean between each service, and spa music to add to the ambiance.  Just show us where to set up and we will be ready to go at your scheduled start time.  We can easily work in your break room, conference room, or any open space.
Some of our clients have created a 'relaxation' station using curtains or dividers to make the area more private. It's a great way to provide a place of serenity at conferences and conventions, as well as at trade shows and other corporate functions.
Benefits of Corporate Chair Massage…
Research regarding corporate chair massage continues to support the fact that employees receiving regular chair massage at work are happier and more productive.  Corporate chair massage creates enthusiasm and builds team spirit. Employees work more efficiently and get along better with their co-workers.
Chair massage creates excitement at corporate functions and marketing events. From what our clients tell us, it's the highlight of their day!
As a promotional tool or as a gift, chair massage is sure to be a hit!  We add that 'special touch' to your day!
Contact us or call 404-917-9001 for your customized chair massage quote.