Chair Massage at Offices and Events in Atlanta, GA
Events Services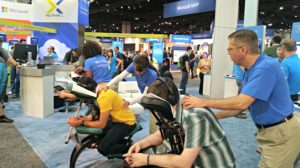 Turn 2 Massage provides onsite chair massage services at event venues including the Georgia World Congress Center and Cobb Galleria. Atlanta is a city known for holding major industry trade shows and conventions all throughout the year.  Chair massage is a popular request for companies exhibiting their products and services at these big events.  They know the value of having massage therapists at their booth.  When people see chair massage, they are drawn right to them.  
Corporate Massage Services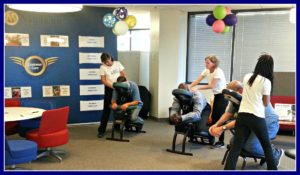 In addition to trade shows and conventions, many corporate offices include regular chair massage as an employee perk and schedule on a regular basis as part of their corporate wellness incentive packages.  Companies also hire us for chair massage services at their health fairs, corporate retreats, holiday parties and other company outings.
Backstage Massage 
Atlanta also has several concert venues.  Entertainment professionals on tour travel from city to city for months at a time.  The hardworking crew has to set up and break down the stage day after day. Their schedules are demanding and the labor is intense. Massage backstage can provide much needed pain relief and increase their energy levels so they are better able to cope with these demands.
On Set Massage for Film and Television
In addition to the music industry, Atlanta has also become a leader in the film & TV industry. While working on location, cast and crew have extremely long schedules and very few days off during their months of shooting. Chair massage on set is requested to help rejuvenate and to prevent injury. It's convenient and can provide a much needed break.
Spa Parties and Special Events
Our Chair Massage services are not only for corporations and entertainment professionals.  We also provide services for private parties and other family and friend gatherings.    Bachelorette parties, baby showers, graduation and other special occasions.   
Read more about our onsite chair massage here