Corporate Yoga Atlanta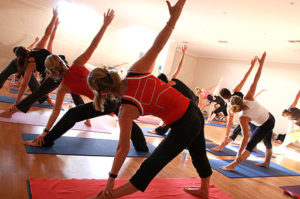 Turn 2 Massage specializes in corporate wellness services.  In addition to our on-site chair massage, we offer yoga in the workplace. Yoga is a mind/body practice known to lower stress, calm the mind, help stretch the body, and increase flexibility.     
Office Yoga 
Class Description:  Our corporate yoga class is designed specifically for the office and with everyone in mind.   Our instructors will focus on teaching basic yoga postures, stretching, breath work, and simple meditation practices to calm the mind.  Employees will return to their day feeling refreshed, energized, and centered after this mindful practice. 
Please be advised that live streaming or video recording our yoga classes is prohibited.
Chair Yoga
In lieu of a full 60 minute yoga practice you may choose to try our 30 minute office chair yoga class.
For a more detailed description of our chair yoga class learn more here
Yoga can have a tremendous impact on your employees stress level
More and more employers are providing an opportunity for employees to relieve stress in a healthy way.    This includes a variety of things including providing games like ping pong and darts, receiving regular chair massage, and bringing yoga into the workplace.
How does Yoga 'work' at the Office 
Our 60 minute yoga class will help your employees stay balanced during the workday.  Our yoga instructors will lead your staff through a mind/body yoga practice that will reduce stress and fatigue and increase energy.   The lunch hour is a perfect time to incorporate a yoga class into the workday.  Or maybe an after work class where your employees will be able to unwind and de-stress from a days work.
Yoga in the Workplace has many benefits 
Yoga is a great way to re-focus the mind, recharge, and interact with other co-workers in a positive way.
It will increase motivation and in turn increase productivity and work performance.
It teaches you how to stay present in the moment, focus your thoughts, and manage stress more easily.
Your employees can escape from computers, phones, and other work related tasks that require intense focus and concentration. Not only will yoga help them feel better, they will be more productive and produce more results for you.
Our teachers are certified yoga instructors with more than 200 hours of training in various forms of yoga practices.
Corporate Yoga Pricing 
Our flat rate pricing is competitive and the cost is affordable.   We provide a certified yoga instructor and your class can include up to 25 employees per 60 minute class for $145.00. Others will charge a base rate up to 5 or 6 people and add cost for each additional person. With our flat rate pricing you don't have to worry.   (Depending on your location, travel fees may apply.  Gratuity and parking fees would be additional.)
****Purchase yoga mats for your office or have your employees bring their own (you may also want to add to your class experience by providing props such as yoga blocks, blankets or straps)****
Isn't it time to bring yoga to work?  It's a great way for your employees to come together in a positive and healthy way.   It will provide a sense of peace and tranquility during the workday.
Contact us today to include yoga in your workplace.
Advanced booking is required   
Namastee… "the belief that there is a Divine spark within each of us that is located in the heart chakra. The gesture is an acknowledgment of the soul in one by the soul in another."