Chair massage in the office or at your company event
Turn 2 Massage provides corporate chair massage services throughout Atlanta. We travel to your corporate office or event location with everything necessary to provide a chair massage experience your staff, clients, attendees or whomever it is you are looking to impress, will absolutely love!
We help alleviate stress and create camaraderie between co-workers.  You'll see attitudes completely transformed after experiencing our chair massages. It is without a doubt one of the best corporate wellness services available to help improve the environment of any office.
If you want to show your employees how much you appreciate them, this is definitely one way to do it!  Try our chair massage for employee appreciation.  You will be praised for your generosity and thoughtfulness. Once you see the positive results chair massage provides, you will see how this affordable service benefits your company both in productivity and having less stressed employees.  That in turn reduces sick time taken.  The list goes on as to the benefits chair massage can provide.
We also provide chair massage at corporate events including meetings, picnics, retreats and other company related functions
Read more here 
Our Chair Massages are a welcome sight at trade shows and conventions
Our corporate massages are also very helpful for getting the attention of attendees at industry trade shows.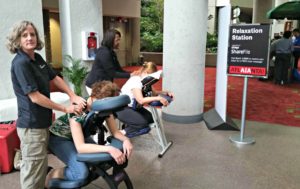 Your booth won't go unnoticed!  If you haven't used show massage services before, you will definitely notice the increased traffic flow.  It's one of the most popular marketing strategies at trade shows and conventions today.  
Contact us with any questions and let us provide your customized corporate chair massage quote.
We look forward to the opportunity of earning your business!
Here is more helpful information regarding the benefits of Chair Massage Therapy