Mobile Spa Treatments ~ Hand & Foot Scrubs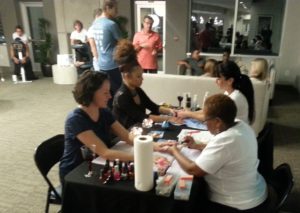 Turn 2 Massage strives to offer a variety of Atlanta mobile massage spa services. Our hand and foot scrubs give you another option.  If you would like more than a traditional hand or foot massage, you might try our hand scrubs and foot scrubs.
Do you have dry cracked skin on your hands or feet? If so, this treatment is for you.  You can enjoy a hand scrub or foot scrub that will exfoliate and remove dead skin allowing lotions to absorb deeper into the skin and help repair damage.
Treatment:
You will receive the scrub of your choice followed by a massage using a moisturizing lotion to soften and renew the skin.
This is a great treatment for mobile spa parties.  Combine with chair massage for a longer lasting day of pampering.
Hand scrubs or foot scrubs mobile spa service pricing.
15 minute hand scrub – $25.00
15 minute foot scrub – $25.00
OR
Mobile Spa Services include hand scrubs and foot scrubs for parties and groups:
Book a minimum of 2 hours for just hand and foot scrubs. Choose your session length. (4) 10-15 minute foot scrubs, (5) 10 minute hand scrubs, etc.
Mobile spa treatments and mobile massages in Atlanta service pricing,  click here
Make Turn 2 Massage your choice for mobile massage therapy, event massage, chair massage, and mobile spa party services in Atlanta.