Trade shows are tiring, no matter if you're attending, exhibiting or managing the event. Being on your feet for long periods, carrying heavy bags, and walking through exhibit halls that are the length of football-fields is hard on the body.  And it's always loud, crowded, and chaotic, which adds to fatigue.
On-Site Chair Massage Offers Big Benefits to Trade Show and Convention Participants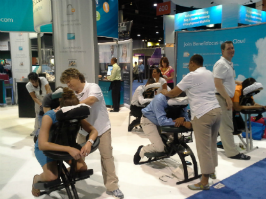 On-site massage provides a welcome relief. Show managers that provide massage services give participants an opportunity to re-energize and a reason to stay longer and be more actively engaged at their event.
Exhibitors that provide massage services in their booths benefit several ways:
Massage is an attractive draw to a booth.
Participants getting massage are more open to listening which makes it easier to discuss the exhibitor's products or services.
Exhibitors who offer massage create goodwill and rapport with attendees and potential customers.
Atlanta is one of the nation's largest cities to accommodate trade shows and conventions throughout the year. Exhibitors are always looking for ideas that will set their business apart.   Chair massage can help them do that.
Turn 2 Massage provides Atlanta trade show massage services
Buckhaven Construction in Atlanta, GA, hired Turn 2 Massage, a mobile massage company, for its booth at a recent show. "They did an amazing job handling the constant flow of people," said Travis Couick of Buckhaven. "They had a team of therapists who worked for a solid 6 hours and were able to help our company make a tremendous impact at a show that requires something special to stand out."
Julie Rivers, Marketing Representative and Trade Show Coordinator for Benefit Focus said, "Turn 2 Massage recently provided its services at our booth at the national SHRM Conference, our industry's largest trade show. We've never had more foot traffic than we did this year."
Consider giving chair massage a try at your next trade show. You will absolutely love the results!
Contact Turn 2 Massage at 404-917-9001 or contact us for a chair massage quote.