Hot Stone Massage 
How does hot stone massage work?
The stones are made of basalt rich in iron so they retain heat. They are immersed in water and heated in an electric heating device until they are within a certain temperature range.  Some of the benefits received are improved circulation, decreased muscle tension, and a calming of the nervous system.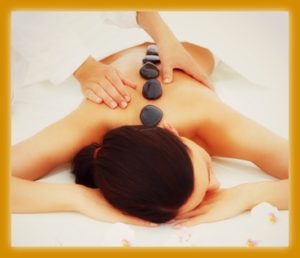 Hot stone massage is a very beneficial form of relaxation and stress relief massage therapy. Stones are placed at specific points on the back, in the palms of the hand, or between the toes. The heat warms and relaxes the muscles which helps relieve pain and soften muscle tissue. This will allow the therapist to apply deeper pressure if desired although hot stone massage does compare more to a swedish massage which is known to be a light to medium pressure. Hot stones will be used to massage the body with the therapist incorporating hand massage techniques and the use of stones throughout the session.
If you have any questions regarding hot stone massage or any of our mobile spa treatment services, feel free to contact us.
For pricing information on mobile spa treatments and mobile massages in Atlanta, click here