Looking for the perfect administrative professionals day gift?  Chair massage is a winner!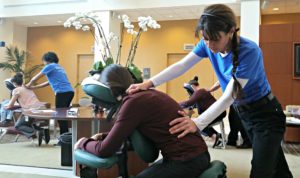 Administrative Professionals Day will be celebrated on Wednesday, April 24th, 2019.  This is a time to recognize the work of administrative assistants, receptionists, and other support professionals.
Employees that work behind the scenes sometimes go unnoticed for all they do.   Administrative Professionals Week is the time of year to show gratitude and generosity to your support staff.
Make this year's Administrative Professionals Day gift one they will remember.  Give the gift of chair massage!
Chair massage is a gift that makes people feel special.  It creates excitement and has such a positive impact on morale.  Our experienced massage therapists are some of the best in the area.  They will leave your staff feeling amazing!
Try chair massage for your Administrative Professionals Day celebration.   Relaxation is a gift everyone can benefit from!
Turn 2 Massage is Atlanta's leading corporate massage service provider.
Chair Massage for Administrative Professionals Day!