Turn 2 Massage offers chair massage for customer appreciation
ATLANTA – Turn 2 Massage announces onsite chair massage services for customer appreciation.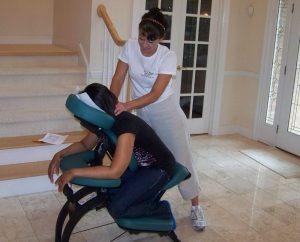 The most integral part of a successful business is gaining a loyal customer base. Whatever the industry loyal customers' help businesses thrive.
Turn 2 Massage recognizes the importance of customer loyalty and satisfaction. They realize the need to acknowledge their customers and show appreciation for their continued patronage. Turn 2 Massage is in business to promote health and wellness and is now offering chair massage for your customer appreciation day. Not only are you showing your customers you care, you're helping to promote a healthy lifestyle. A short chair massage session can make a significant difference. Chair massage can relieve stress and address issues in the neck, back and shoulders. It also promotes a feeling of well being and rejuvenation.
If your company is looking for a more personal way to show gratitude to your customers for customer appreciation day, Turn 2 Massage and their team of chair massage therapists can provide stress relief as well as offer healthy tips and suggestions on ways to manage stress.
About Turn 2 Massage
Owned by licensed massage therapist Michelle DiGaetano, Turn 2 Massage provides mobile massage throughout the Atlanta region. Turn 2 Massage excels in the art of massage therapy by bringing quality onsite chair massage and therapeutic table massage to you. In addition to providing massage on location for film productions in Atlanta, Turn 2 Massage offers corporate massage for relaxation and stress relief at the office, in home therapeutic table massage for pain relief, and event chair massage services for all occasions. All of Turn 2 Massage's therapists are state licensed leaders in the massage therapy industry.