Chair Massage Atlanta, GA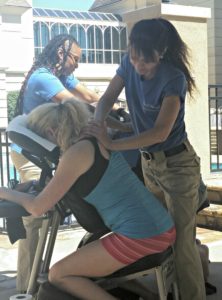 Turn 2 Massage offers chair massage mobile services throughout the Atlanta, Georgia region. It has gained tremendous popularity and is used for a variety of events and occasions.
Corporations recognize chair massage not only as a way to say thank you to their dedicated staff, but as a wellness service that can transform their office into an upbeat, creative environment by increasing their employees energy, boosting morale and reducing the amount of sick days used by their employees.
Our chair massage is also a great addition to bridal showers, bachelorette parties, family reunions, graduations and other private party celebrations.
Chair Massage:
Adds joy to any special occasion

Is a valuable marketing tool at trade shows

Reduces stress at work with our in office massage services

Promotes health and wellness at corporate health fairs and wellness days

Is a great gift idea for showing appreciation to employees and customers
We work with companies that have made an affordable commitment to the health and well-being of their employees. Our onsite chair massage at your office will give you and your employees a boost in energy. Their appreciation and increase in productivity will show the value of your small financial investment. A win-win for both the employer and the employee.
You may want to consider chair massage at your next trade show or event. As a marketing tool, chair massage draws interest to your booth. Participants are excited about getting a free massage and will wait in line to receive one. This in turn attracts more attention and more of an audience for you to promote your business to. You will stand out from all the others.
We also help you create a mobile spa party at work or at home. Whatever your event or occasion, chair massage adds so much more!
Read more about our on-site chair massage services in Atlanta here
We look forward to the opportunity of providing you the best chair massage in Atlanta!
Make Turn 2 Massage your choice for Atlanta mobile massage therapy, on site chair massage, and mobile spa party services in Atlanta.