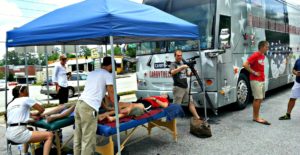 Turn 2 Massage provided Mobile Massage for Carry The Load Relay Walk
ATLANTA – Turn 2 Massage helped provide some relief to veterans and their loved ones walking 2,000 miles across the country to raise support for those who served.
Turn 2 Massage assisted participants in the Carry The Load walk during their stop in Atlanta. The group is walking from West Point to Dallas to spread the word on restoring the true meaning of Memorial Day by connecting Americans to the sacrifices of our military, firefighters, law enforcement and rescue personnel.
"Turn 2 Massage was honored to help provide some comfort for these brave men and women who are spending 27 days walking for such a great cause," Turn 2 Massage owner Michelle DiGaetano said. "Our services were not only much needed, but they were truly appreciated."
Turn 2 Massage set up at shift change locations to provide 15-minute foot massages to the volunteer walkers, which have completed more than 1,000 miles to date. The group, which is beyond the halfway point, is scheduled to head to Chattanooga following its visit to Georgia.
"We wish we could have done more for this great cause," DiGaetano said. "Their presence definitely made us think about the real meaning of Memorial Day and the sacrifice they have given."
Turn 2 Massage provides onsite massage services for community, corporate and other outreach events, such as walks like Carry the Load.
Look around our website and read all about our various mobile massage and chair massage services.
About Turn 2 Massage
Turn 2 Massage is a leader in the massage industry and Atlanta's mobile massage service for the television and film industry. Turn 2 Massage excels in the art of massage therapy and brings quality onsite chair massage, therapeutic table massage and mobile spa party services to you. Turn 2 Massage offers corporate massage for relaxation and stress relief at the office, massage on location for Film & TV, in home massage for relaxation and pain relief, and event chair massage services for any occasion.
Make Turn 2 Massage your choice for Atlanta chair massage & Mobile Massage in Atlanta, GA.