Looking for the best chair massage in Atlanta?

Whether for work or play, chair massage is healthy, enjoyable and affordable!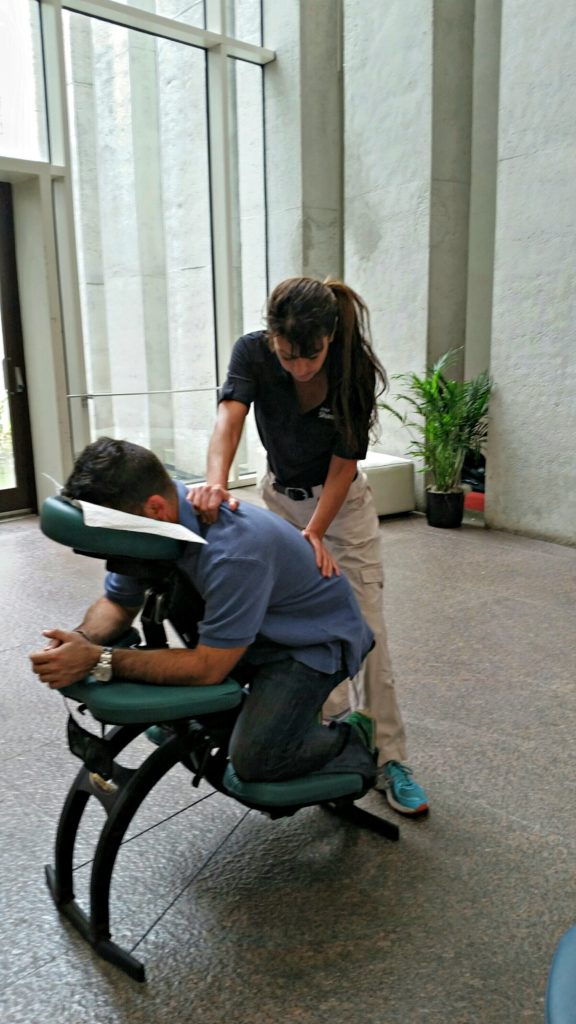 Chair massage is one of the best incentives a company can provide it's employees. Creating a healthy work atmosphere is extremely beneficial to the productivity of the business and the interaction between co-workers. Wellness programs work when employees want to participate, and chair massage certainly falls under workplace wellness. Including chair massage on a regular basis will most definitely show a return on your budget friendly investment. This healthy concept continues to grow year after year.
Companies sponsor events such as runs/walks and fundraisers, health related contests for weight loss, pay the majority or all of a gym membership fee for their staff, or offer other healthy incentives that likely don't attract the majority of employees. People like instant gratification and chair massage provides immediate results. Along with reducing stress and fatigue, it feels great! Your employees will jump at the chance to receive massage at work.
Include Chair Massage at your Event
If your planning a get together with family and friends, what better way to add to the festivities. Chair massage is a welcome sight no matter what the occasion. It really does fit in whenever and wherever you are. Weddings, sporting events, parks, hotel parties, backstage, in-flight and so much more. Chair massage can highlight any activity or occasion.
Turn 2 Massage offers you the best chair massage in Atlanta. Our reputation for first class customer service can be validated by our client testimonials and some of the best reviews on Google!
For work or play, chair massage will make your day!