Chair Massage for Employee Wellness and for Special Events
Chair Massage for Employee Appreciation and Corporate Wellness Programs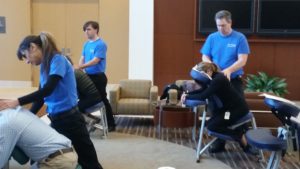 Corporate chair massage at work can address many common workplace complaints. A short session can provide relief from back, neck and shoulder problems. Chair massage can help prevent or relieve workplace injuries like carpal tunnel syndrome, and reduce tension headaches often brought on by work related stress. 
Our experienced massage therapists will perform your chair massages in a specially designed massage chair while you remain in your normal work attire and enjoy a stress relieving and very relaxing massage. 
Benefits of Corporate Chair Massage in the office
Research indicates including chair massage in the office boosts energy, improves morale, and increases productivity.  It relieves stress and tension and helps re-energize. It will create a whole new atmosphere.  Employees get along better and have a renewed appreciation for their company.  Studies show corporate chair massage in the office can enhance teamwork, improve creativity, focus, and concentration. The positive and upbeat attitudes benefit the company because employees are less stressed, more productive, happier and healthier. 
Chair Massage for Events
We also provide chair massage at events.  This includes both corporate functions including trade shows and conventions, as well as social events like bachelorette parties and sporting events.   Chair massage will enhance any event setting.   It's a special treat your employees and guests are sure to enjoy. 
Consider including regular chair massage as part of your employee wellness program. It's an added benefit that is low cost and well worth the investment. 
Try our onsite chair massage at your office or company event. See for yourself the changes in your work environment when you include chair massage.
Provide relaxing chair massages to guests at your special event.   You'll see smiling faces all around. 
Contact us for your customized chair massage quote
Read more about our: