Massage for Events in Atlanta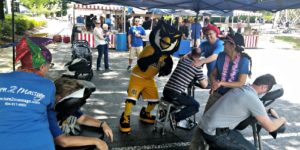 Turn 2 Massage provides mobile massage and chair massage for events. Whether your getting together with friends for a small party or planning a large corporate event with hundreds of guests, we can accommodate any size group.
We offer a variety of massage options including our popular

Chair Massage
Our event massage therapists provide amazing chair massages that focus on the neck, back, and shoulders.   Your guests will feel refreshed and rejuvenated, and are sure to be impressed with your kind gesture!
Although chair massage is our most requested service, we offer a variety of massage and spa treatment options for your event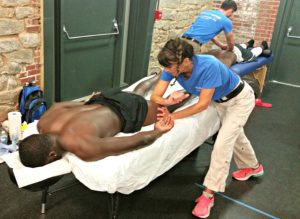 Our relaxing foot massage will relieve tired, achey feet.   We also offer hand massage, foot scrubs, and table massages that are customized for the occasion.
Depending on the setting and venue we can help determine what services might work best and help you with all the details.
Event Massage is great for Corporate or Private Events
Trade shows & conventions
Store openings
Marketing events
Company retreats
Sporting events
Backstage at concerts & shows
Anniversary or birthday parties
Family reunions
Bachelorette parties & weddings
Holiday parties
Whatever your event or celebration, massage is the perfect addition.
Event Massage adds enjoyment and that final 'touch'!
Provide chair massage services and get more attention at your trade show or marketing event.
Offer onsite table massage for athletes at your sporting event.
Bring massage on set for tired cast at crew.
Offer foot massage at an event that requires a lot of standing or walking.
The flexibility of our services make massage possible anywhere, anytime!
Turn 2 Massage provides licensed, professional massage therapists for events in Atlanta. We help make any event an awesome event!