Chair Massage for Conventions in Atlanta, Conferences & Corporate Meetings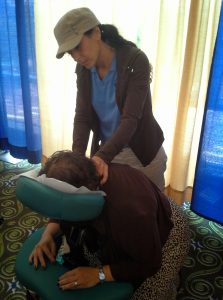 Turn 2 Massage provides onsite chair massage for conventions and corporate functions throughout Atlanta, GA. Our massage therapists provide chair massages that help your attendees reduce built up tension and re-energize.  It provides both a physical and mental recharge.
Why is Chair Massage so good in these settings?
Your attendees will be sitting for long periods of time and are sure to have some aches and pains.  A stiff back, achy shoulders, mental overload.   They will absorb an enormous amount of information throughout the course of the day.  In order to help keep them focused and interested, consider providing chair massage.  
You can create a relaxing massage station or relaxation area that will provide your attendees a short 'getaway' from the commotion and become a place of serenity. It will be very much appreciated and your attendees will be totally rejuvenated!
During breaks and lunches chair massage can help clear the mind and provide a much needed boost in energy
Add chair massage to your convention or upcoming event.  Contact us today!