If your searching for corporate gift ideas….
Chair Massage is THE gift for employees, clients and customers
Finding that perfect corporate gift can be a challenge.  Chair massage is something that will be remembered far more than a bottle of wine or gift card.   Your employees, clients and customers will feel special and appreciated.   Do something different and unexpected.  Give the gift of chair massage.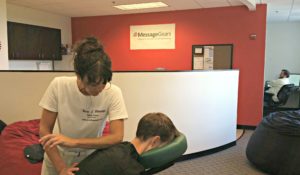 Reward your employees for their hard work and dedication
Acknowledge your customers for their loyalty
Say thank you to clients 
Chair Massage is more popular than ever in corporate america and with the general public.  Not only because it's convenient.  It reduces stress and has a calming effect on the mind and body.    
It's a thoughtful gift that's worth giving again and again. 
Chair Massage is a regular perk at many corporations
Companies need loyal hard working employees to keep their business thriving.  Including regular chair massage at the office helps retain good employees and keep them healthy and productive.   Your company will stand out as one that rewards hard work and treats their employees well.
We would love to add your to our list of corporate clients!
Contact us for your free quote.