Holiday Gift Idea for
Employees, Clients & Customers
Add chair massage to your holiday event!
If your looking for a corporate holiday gift idea for your employees, customers or clients, you found it!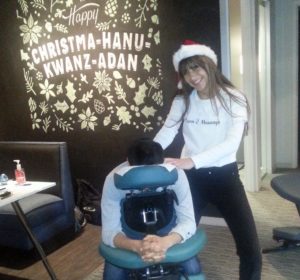 Give the gift of chair massage at work, your company holiday party, or your special event.  Massage is appreciated by all.  Show your loyal employees, customers or clients you value them.
Juggling work, family, shopping and planning the holiday itself can take a toll physically and mentally.
Chair massage is a gift that lets your employees know you care and understand the demands of life at this time of year. Giving your staff just 10 or 15 minutes of relaxing chair massage can create a whole new outlook and greatly reduce stress levels.
Give thanks to your customers or clients that support your business throughout the year. Chair massage is a special way to say thank you.
Add that 'special touch' to your holiday event with our awesome chair massages!
Bring joy and smiling faces to your employees, customers, clients or guests and book your holiday chair massage today!
Turn 2 Massage is Atlanta's #1 chair massage service and the best choice for your holiday gift!
See rates & services or contact us for a customized quote.