Corporate Chair Massage in Atlanta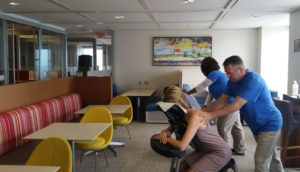 Standard hourly rates for corporate chair massage is $65.00 per hour, per massage therapist.  This is for a time frame of 3 hours or more.  Breaks will be included and provided in your quote.   
We can determine the number of massage therapists needed for your office massages. We just need the number of employees and the length of the chair massage sessions you'd like.    We can determine the time frame, breaks, and number of therapists. 
It may be better for you to have fewer therapists for a longer amount of time or more therapists for a shorter time frame.   You may choose to request a specific time frame and number of therapists. 
To receive a chair massage quote for your office please complete our contact form.