Stretching Class

at Work or at the Office
Turn 2 Massage offers a 30 minute stretching class at the office. This stretching class will be led by an experienced massage therapist for up to 25 members of your staff per class. The therapist will lead employees through a variety of gentle stretches either standing, sitting or lying on the floor. Each person will perform these stretches on their own as led by our therapist and can take each stretch as gentle or as deep as is comfortable for their body.
Start your workday morning off with a good stretch, incorporate a mid-day stretching break, or end the day with our stretch at work class. Class can be held indoors or outdoors if weather permits.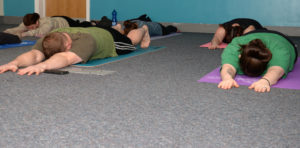 This class differs from a yoga class as it does not involve a flow of movements or poses, balancing, or meditation, and a mat is not essential. Some stretches will be familiar for a yoga practitioner, but again this is strictly a stretching class only.
If a mat is not available, your employees can provide their own blanket for padding to use for stretches done sitting and lying on the floor.
Corporate Stretching Class and the benefits
Many people have aches and pains and even more-so when working in an office setting. Employees are seated at their desk all day working at computers. Others are sitting in meetings or training sessions that can last for hours at a time. Our stretching class is ideal for the office environment.
On our own, we typically don't take the time to get up and stretch. This class will provide your staff the opportunity to get together, reduce those aches and pains, and get the much needed stretching our bodies want and need.
Our stretching class will provide the opportunity for employees to relieve built up stress and tension in the neck and shoulders as well as reduce backaches and leg cramps while increasing circulation.

Scheduling a stretching class at work provides employees a specific time to get up and get away from their desk, move their bodies, and get a mental break as well.

B

ecause they will be following the lead of the therapist, everyone can take the stretches as easy or as deep as their body allows.
This class is an affordable option and can easily fit into your wellness budget. The class accommodates up to 25 of your employees per class. It's a great addition to your corporate wellness program, to include at your health fair, or anytime your staff can take time for a good full body stretch.
Recommended Items for Corporate Stretching Class:
Comfortable clothing – Sweats or Leggings would be ideal and a lightweight t-shirt or tank top
Blanket (or Workout Mat if available) – Each employee can provide their own blanket or workout mat. This is recommended both for comfort and for sanitary reasons as most of the class will be done sitting or lying on the floor.
Our 30 minute stretching class is $119.00 plus gratuity & parking validation for the therapist. Depending on your office location, travel fees may apply.
Contact us to discuss scheduling your Stretch At Work Class!