Turn 2 Massage provides in office massage for corporate wellness programs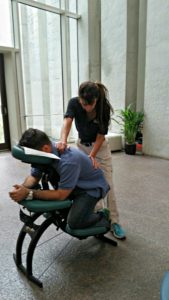 Turn 2 Massage works to decrease stress in the workplace with our in office massage services.  We offer onsite massage for corporate wellness programs that feature chair massage to lower stress and improve morale in the workplace.
From the owner: 
"When I provide in office massage services, one of the biggest complaints I hear from staff is neck and upper back pain from sitting behind a desk every day," said Michelle DiGaetano, owner of Turn 2 Massage. "With the daily use of computers and cell phones, it's common to find employees with pain in their hands and forearms."
By including regular chair massage at the office, it can help prevent workplace injury, improve employee productivity, lower stress levels and improve the general workplace atmosphere.
Turn 2 Massage will work with management and human resources staff to implement massage as part of your company's corporate wellness program and tailor it to fit your organization's needs. In-house massage programs are available weekly, monthly, quarterly or annually depending on the needs of your office.
Medical studies have found that work-related stress can lead to other health issues, which ultimately impact companies' bottom lines.
When employees are unhappy at work, this can lead to disputes among workers, low morale, increased sick time and decreased productivity.
"Massage relaxes the mind and body," DiGaetano said. "Our goal is to help eliminate work-related pain and everyday stress. By rewarding your employees, you are rewarding yourself with a more efficient staff."
To learn more about improving the corporate culture, contact Turn 2 Massage today.
Contact us for your chair massage quote