Turn 2 Massage offers chair massage for customer appreciation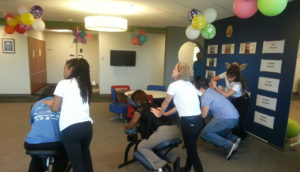 If your looking for a more personal way to say thank you to your customers, Turn 2 Massage provides that extra 'special touch'.    We offer amazing chair massages for your customer appreciation day event. 
The most integral part of a successful business is building a loyal customer base. Whatever your industry, loyal customers help your business thrive.  
Chair Massage makes a great gift for your customers
Give your customers a relaxing chair massage.  It shows you put thought into a gift that lets them know how much you appreciate them and their business.   Not only does a chair massage feel great, it relieves stress and reduces pain and tension in the neck, back and shoulders.  It promotes a feeling of well being and total rejuvenation.   It will leave your customers feeling stress free and happy!   
Contact us today to get your free quote!