Give the Gift of Chair Massage during Customer Service Week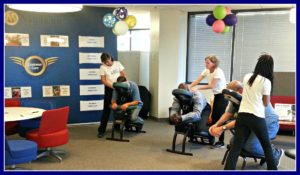 Great customer service is essential for the success of any business.  Show your staff how much you appreciate them. Give the gift of relaxation with our awesome chair massages!
Each year companies celebrate this event in different ways.  This includes week-long activities, luncheons, handing out service awards and holding contests.  This is the week to recognize staff that serve and assist customers every day by providing the highest degree of courtesy and professionalism.    To achieve the highest level of customer satisfaction, great customer service and happy employees is a must!
Providing great customer service is what ranks companies above their competition.  Of course the actual product or service has to be of good quality, but the staff who handle phone calls, respond to email inquiries, or deal directly with consumers can make or break a customer's final decision.
Customer service staff must remain polite and composed even when dealing with unhappy and sometimes difficult customers.  The customer service staff who work to resolve the issue and provide customers with a resolution can make all the difference. 
Chair Massage for appreciation events
Acknowledge your staff for the excellent work they do.   Reward them with a gift that is sure to please.  We offer onsite chair massage services for customer service week.
Turn 2 Massage makes customer satisfaction a priority. Let our team of professional massage therapists provide your employees with the best chair massage in Atlanta!   They'll feel refreshed, rejuvenated and thankful for such a treat. You'll see smiling faces all day long!  
Customer service week not only recognizes the staff that provides such great service, but also extends to customers. They too should be appreciated for their loyalty and commitment.
Reward your staff or customers with the gift of relaxation!
For more pricing information on chair massage for customer service week, click here or request a quote.